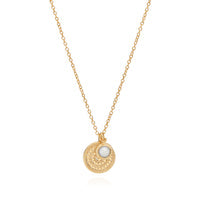 Anna Beck Pearl Charm Pendant Charity Necklace
This necklace was created in partnership with the Bumi Sehat Foundation where 30% of all proceeds go to care for expectant mothers in Bali. Pearls are thought to be calming and centering and are said to symbolize wisdom gained through experience. This necklace is made entirely by hand by artisans in Bali. 
#339 NK10260-GPL 16-18" chain 5/8" diameter disc. 18k gold over sterling silver.