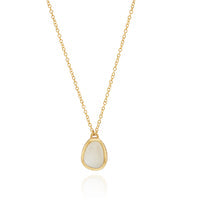 Anna Beck Medium Moonstone Asymmetrical Pendant Necklace
The modern asymmetrical shape is highlighted by the iridescent quality of the moonstone against the 18k gold. Moonstones are known as the stones of new beginnings. Made entirely by hand by artisans in Bali using traditional techniques.
#346 NK10345-GWMS 5/8"x1/2" pendant. 16-18" chain. 18k gold over sterling silver.