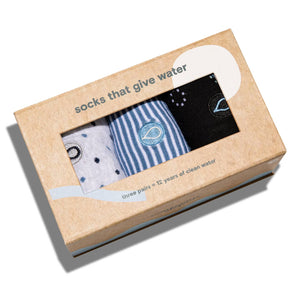 Conscious Step Box Socks that Give Water M
This beautiful gift set includes three pairs of irresistibly comfortable socks in blue striped, grey polka dot and blue paisley. Each box provides access to 18months of clean water and thereby helps people survive and thrive.
75% organic cotton 23% recycled polyester 2% spandex.
US W 9.5-14 M 8.5-13
CMWAT001