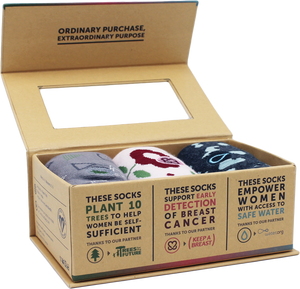 Conscious Step Box Socks that fight for her S
Feel good about buying these extra soft, seamless toe, organic cotton socks. Made with terry padding in the sole for additional comfort. Featuring 3 pairs of socks each gift box plants 10 trees through Trees for the Future, promotes early detection of Breast Cancer through Keep A Breast and access to safe water through Water.org. 
Small US W 5-9 US M 4-8  
75% organic cotton 23% polyamide 2% spandex. 
Vegan and fair trade certified