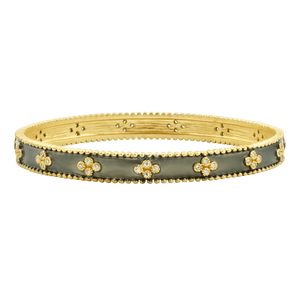 Freida Rothman Signature Clover Beaded Slide Bangle
This was one of the first slip on bangles that Freida designed.  Freida Rothman is a Brooklyn based jewelry designer. Her handcrafted and intricately detailed pieces are made for effortless elegance. Feminine embellishments are combined with edgy designs for a uniquely contemporary aesthetic. 
#214 YRZB0053B 2.5" 14K gold and rhodium matte finish with sterling silver core.